A year ago Tweakers.net published a review of four Serial ATA RAID-adapters, which were the first flock of a new era on workstation- and server storage. The once dominant SCSI interface is being pushed to fewer niches by the cheaper alternatives based on Serial ATA technology. Since our previous SATA RAID-roundup Serial ATA has continued its way into business and consumer markets. The introduction of new disks, controllers and (storage) systems is met with great interest of buyers in both desktop, workstation and server segments. Serial ATA is an accepted standard in midrange and high-end desktops, workstations and certain server appliances by now. In the recent Wave 4 investigation of TheInfoPro (TIP) Serial ATA was once more on the first place within the "Technology Heat Index". This index is a ranking of the current and upcoming use of more than 20 different storage technologies, ranked on short-term expenses and based on polls filled in by 150 to 250 decisionmakers (selected on expertise) of big companies. The most recent study concluded that by now 40 percent of those polled are using ATA disks by now. Said usage mostly consists of near-line storage, often implemented in what is called "tiered storage" where ATA-hard disks are being used as temporary storage before the data is written to tape.
In lower market segments all barebone builders are offering products incorperating Serial ATA technology. Our report on the CeBIT 2004 tradeshow once again showed the momentum Serial ATA has gained. The manufacturers of computer systems can choose from countless new Serial ATA components, where developments concentrate mostly around server solutions. Maxtor began with the roll-out of its MaXline III series, Western-Digital introduced its Caviar RAID Edition, Seagate has added the Barracuda 7200.8 to its product line and Hitachi introduced new 2,5 inch SATA disks geared towards use in blades. In the meantime Western Digital still offers the Raptor WD740GD, which holds its own against 10.000rpm SCSI-disks, despite the lack of a decent command-queuing mechanism, even in server applications.
Regarding RAID adapters, especially new products from unknown and less reknown manufacturers were put on the market. The testfield in our
Test objective and test field
Before introducing the players in this roundup it is important to define the objectives of this article. In the first place it is going to be a comparison of the features and performance of the discussed RAID-adapters. It's not that we don't value the importance of reliability and availability, but testing these factors in a sterile test environment is difficult, if not impossible. All adapters in this roundup have support for essential availability features such as hotplug, hotswap and hotspares. In controlled environmentss these products did exactly what was expected of them - hotswapping was no problem, automatic rebuilding was functional, capacity expansion worked, and so on. Unforeseen problems only come to the surface when the adapters are handed over to he whims of real-world surroundings with high duty cycles, 24/7 usage and the enormous variety in hardware. Incompatibility with motherboards, hard disks which suddenly drop out of the array, failed rebuilds due to certain rare conditions. It is the typical misery that only comes to surface in very well facilitated qualification procedures or real world use as described above. In this review, Tweakers.net doesn't pretend to make claims concerning the reliability and availability of the adapters. We however can and will make judgements concerning the performance of the participants in this roundup.
All of the participants in this test have a minimum of four SATA ports and support RAID 5. How these two conditions were met and which pricetag was put on, didn't matter for the composition of the test field. The result is a differed field of participants with prices ranging from 180 to 620 euro and some adapters having onboard processors while others are relying on the power of the CPU. While one adapter had to put up with a simple 32-bit PCI interface others could use PCI-X up to clock speeds up to 133Mhz. And one adapter already had support for Serial ATA II while other contestants used PATA bridge chips. The big differences in price, features and implementations made it all the more interesting to search for answers to the question which adapter scored best in the different areas; price, performance and features.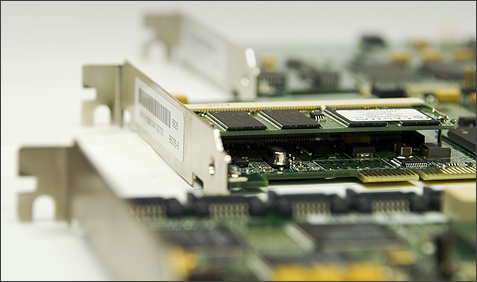 Test field
To get a picture of the latest state of the art in the land of the SATA RAID adapters we let come to the party eight adapters of the manufacturers 3ware, Areca, HighPoint, LSI Logic, Promise and RAIDCore. The contestants are successively the 3ware Escalade 8506-8, 3ware Escalade 9500S-8, Areca ARC-1120, HighPoint RocketRAID 1820A, LSI Logic MegaRAID SATA 150-4 and its sibling the 6-port MegaRAID SATA 150-6, the Promise FastTrak S150 SX4 and finally the RAIDCore BC4852. The Escalade 8506-8 is the successor of the Escalade 8500-8 whom we tested in our previous roundup. Meanwhile also this controller has gotten a successor, the Escalade 9500S-8. The LSI Logic MegaRAID SATA 150-4 and the Promise FastTrak S150 SX4 already participated in last year's review. The products of Areca, HighPoint and RAIDCore were announced last summer and belong to the select share of newcomers.
Note: Since the original Dutch article was published in late January, we have finished tests of the 16-port Areca ARC-1160 using 128MB, 512MB and 1GB cache configurations and RAID 5 arrays of up to 12 drives. The ARC-1160 was using the latest 1.35 beta firmware. Furthermore, a non-disclosure agreement on the LSI MegaRAID SCSI 320-2E PCI Express x8 SCSI RAID adapter was lifted. The performance graphs have been updated to include the Areca ARC-1160 and LSI MegaRAID SCSI 320-2E results. Discussions of the results have not been updated, however. The results should be self-explanatory.
Anatomy of a RAID adapter (1)
Before talking about the individual participants we must first discuss the internal design of different RAID-implementations and give you an update on the current techniques of RAID components like SATA controllers and I/O processors, so everyone knows what we're talking about.
In this lesson on the anatomy of a RAID adapter we will first distinguish two categories. Those belonging to the so-called "software RAID-adapters" and those in the "hardware RAID adapter" category. In the first category we find controllers which use the CPU for RAID specific calculations. In the second group we find controllers where all RAID functionality is handled by the adapter itself. The distinction between software and hardware RAID makes you think that for the second group RAID logic is baked into silicon. Nothing is more true: even in the so-called hardware RAID controllers RAID arrays are bind together through software, the difference is the software is running on a dedicated I/O processor. It is therefore better tot speak off hostbased RAID adapters and intelligent RAID adapters. The first group is dependent upon the host CPU while the second group has sufficient intelligence available to run the RAID computations independently from the host.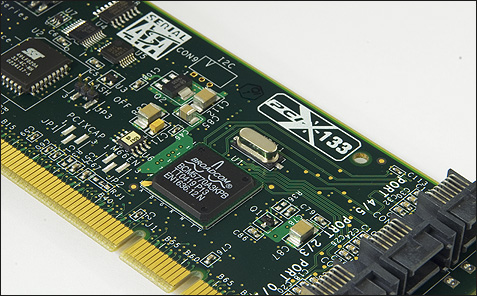 RAIDCore BC4852: its hardware design is no more complicated than a normal SATA host bus adapter

Hostbased RAID and intelligent RAID each have their own advantages and disadvantages. The most obvious advantage of hostbased RAID is its lower cost. The RAID controller or adapter design does not need to be more complicated than a normal controller without RAID-functionality. Because it uses the brute force of contemporary fast processors, hostbased RAID implementations are able to offer excellent performance scaling. The downside, especially on RAID levels with parity, is that the controller uses much more CPU-cycles. Besides higher CPU usage, also more interrupts are requested, more memory bandwidth is consumed and more I/O bandwidth is used. Furthermore besides the actual data, redundant data for RAID levels with parity or mirroring must also be transferred over the bus. On intelligent RAID adapters redundant data is not sent over the host PCI bus. Another disadvantage of hostbased RAID controllers is that they cannot operate independently from the processor and/or the operating system. For handling of operations like reconstructing or expanding a RAID volume it is often necessary to have an active operating system with installed RAID management software. A hardware reset will, with certain hostbased solutions, result in a rebuilding or initialization operation starting again from scratch. If system memory is used as cache (write-back data) it cannot be protected by a battery backup unit (BBU).

Intelligent RAID-controllers have the advantage that they can operate entirely independent from the system. Rebooting, resetting or shutting down the system generally won't affect them. When using RAID levels with parity intelligent RAID-controllers use considerably less CPU cycles then hostbased controllers. The downside is that a slow I/O processor can become a bottleneck and will decrease performance. All RAID-adapters with an Intel i960, IOP302 or IOP303 processor experience a bottleneck which is frequently felt at transfer rates reaching 130MB/s. Consequential, when using more than four fast disks, throughputs will no longer increase. On the other hand RAID adapters with the new Intel XScale I/O processors scale extremely well.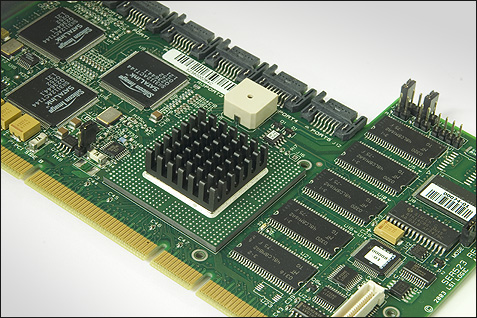 Intelligent RAID: I/O processor in the center, memory chips on the right, SATA controllers on the left

Previously we have listed examples of the superior availability features of intelligent RAID adapters. The independent operation ensures a higher availability of data. And because most adapters can be equipped with a battery backup unit protecting the contents of the cache, write-back caching can be enabled without risk, resulting in a considerable performance improvement, especially in RAID 5. At least as important is that the manufacturers of intelligent RAID adapters seem to put more effort in qualification of their products. Because much intelligence takes place in hardware or firmware, these manufacturers better make sure that their products are functioning properly. Ad-hoc fixing of problems will be more cumbersome than issuing a simple driver update. The fact that these manufacturers frequently aim at higher market segments then makers of hostbased RAID adapters also plays a role. We feel that more driver- and compatibility problems arise with hostbased RAID adapters. For example look at the disastrous performance of the Promise FastTrak S150 SX4 with the first-release drivers, the call-back action of the RAIDCore RC4x52 and the bad experiences of those using the HighPoint RocketRAID 1820. But manufacturers of intelligent raid adapters aren't spared of trouble. Recent 3ware cards with support for 64-bit 66MHz have compatibility issues with certain PCI-X mainboards and LSI Logic had to call back early versions of the MegaRAID SATA 150-4 and MegaRAID SATA 150-6.

As you might have guessed reality isn't painted black or white with regards to the difference between hardware or software RAID, and hostbased RAID-adapters versus intelligent RAID-adapters. There are mixtures of the above which use hardware acceleration for certain tasks and are dependent on software running on the host CPU for other tasks. One of the manufacturers with a so-called hardware assisted RAID solution is Promise. The Fasttrak S150 SX4 is capable of making XOR-computations in hardware and is equipped with an onboard memory, however it lacks a fully featured I/O processor.
Anatomy of a RAID adapter (2)
The hardware implementation of hostbased RAID adapters generally differs little from storage adapters without RAID functionality. A low-profile PCB (Printed Circuit Board), I/O controller, flash chip and the necessary connectors to wire the hard disks are the most important components. Specially adapted BIOS software and drivers ensure that disks connected either by the PATA, SATA or SCSI protocol act as a RAID volume.
In the intelligent RAID adapter category there are many manufacturers using third party I/O processors and I/O controllers. In the case of Serial ATA the controllers are mostly originating from Marvell and Silicon Image. SCSI RAID adapters fequently use controllers made by Adaptec and LSI Logic. The I/O processors are in most cases originating from Intel, but there are manufacturers who incorporate PowerPC cores on their cards. The I/O processor communicates through the PCI bus with the host and uses memory chips soldered on the PCB or DIMM / SO-DIMM modules. A large part of the memory is reserved for cache. Many I/O processors contain an integrated PCI bridge on which local I/O controllers can be connected. The manufacturer-specific RAID software stack (also called a RAID kernel) ensures that the connected hard disks are presented to the outside world as one or several RAID arrays. The RAID software stack is therefore a piece of software that resides on top of the I/O processor. The recent processors of Intel are based on the standardised ARM instruction set. They are general purpose processors, but have been equipped with hardware acceleration for I/O specific tasks such as XOR and CRC operations.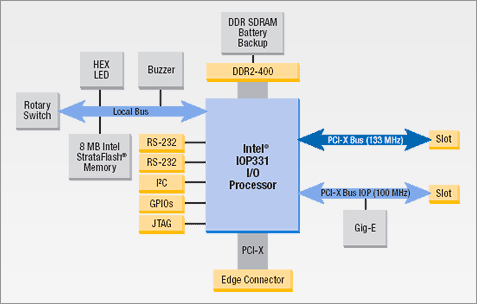 Intel IOP331 block diagram

With the above concept, makers of RAID adapters have the ability to realize truly elegant RAID implementations. New developments by manufacturers of I/O processors and I/O controllers can, in surprisingly little time, be converted into improved RAID implementations. Thus now we see the first SATA RAID adapters of Areca and LSI Logic using Intel's new generation XScale I/O processors and Marvell's new 8-port Serial ATA II-controller. These components both have a very good performance, a high degree of integration and a huge featureset. Intel has even incorporated PCI Express in its newest I/O processor and with aid of the newest Marvel controllers no less than 8 ports can be made available by one chip with each port supporting 300MB/s SATA II speeds and port multipliers. The modular concept also ensures scalable solutions: by using several I/O controllers on the RAID adapter, manufacturers can easily increase the number of ports or channels. The I/O controllers communicate with the I/O processor by means of standard PCI bus protocols, which results in a high degree of flexibility. The downside of this approach is the high price level, at least compared to hostbased RAID. The higher price is justified by a better featureset, but not always by better performances. Areca, Adaptec, ICP Vortex and LSI Logic are examples of manufacturers using modular RAID implementations.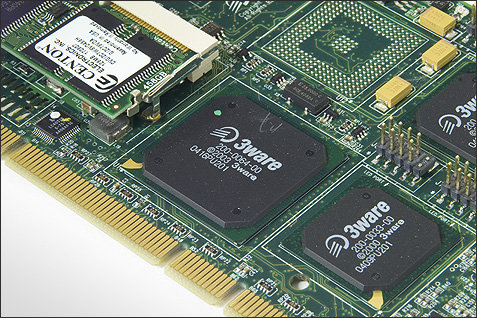 3ware StorSwitch ASIC
In spite of the advantages of the modular concept with third-party components there are still manufacturers who create their own solutions. The working method of Promise has been described before. 3ware is another example. In its storSwitch architecture the manufacturer uses its own I/O controllers and its own RAID ASIC. The slow development process of this solution is proven by the fact that support for native Serial ATA is still lacking in the 3ware's latest chip generation. In order to enable the use of SATA hard drives a Marvell PATA to SATA bridge had to be added for every port. In its newest incarnation the RAID ASIC can process 100MB/s RAID 5 sequential writes using only a few CPU-cycles. With current hard disks, managing sequential transfer rates of 60MB/s a piece, a RAID 5 write transfer rate of 100MB/s is hardly impressive. It is remarkable that until now 3ware didn't use memory on its cards and therefore lacked support for write-back cache. The absence of onboard cache is one of the reasons for the disappointing performance of 3ware Escalade 8500-8 in our
SATA controllers and I/O processors
Now that we have some knowledge about the design of the different species of RAID adapters, it is time for a tour along the different SATA controllers and I/O processors which can be used as building blocks by manufacturers of both hostbased RAID adapters and intelligent modular RAID adapters. On this page we also inform you about the latest developments around the Serial ATA standard.

Rise of Serial ATA II
Scarcely two years on the market, Serial ATA has reached version two of the Serial ATA specification. SATA II has many improvements, of which the addition of Native Command Queuing is the most important. But there's also support for port multipliers, the support for enclosure management and the increase of the bandwidth up to 300MB/s per port. Furthermore Serial ATA II has among other things gotten support for dual host active failover and backplane interconnections where longer signal lines are permitted. A number of features speak for themselves or have already been extensively explained. Concerning NCQ and port multipliers you can read more in SATA II will be introduced in two phases. At the first stage products will provide NCQ, enclosure management support, support for backplanes with longer signal lines and support for data scatter/gathering (a method to improve the performance of DMA transfers). Products supporting SATA II phase 2 will provide dual host active failover, 300MB/s port speeds and support for port multipliers. Phase one and phase two products are brought to the market simultaneously. There are already some SATA controllers available which support phase two features.
The improvements in the SATA II standard are particularly interesting for server applications. SATA II will become even more attractive for use with servers when the Serial Attached SCSI standard arrives on the market sometime this year. SAS controllers will be able to connect to both SAS and SATA drives, making it possible to combine both interfaces in a single storage system.

Serial ATA controllers
At the moment Silicon Image and Marvell are the most important suppliers of discrete Serial ATA controllers. Broadcom is also offering a line of SATA controllers, but as far as we know these solutions are only used by RAIDCore, a daughter company of Broadcom. Purely based on specifications Marvell produces the most versatile controllers. The 88SX60xx series of this manufacturer supports phase two features and is available in 4-port and 8-port versions. Due to a high degree of integration and support for 300MB/s speeds, NCQ, port multipliers and 133MHz PCI-X these chips are popular among manufacturers of RAID-adapters. For less demanding applications, Marvell is offering the 88SX50xx series of SATA I controllers. This series is also available in 4- and 8-port versions. The 88SX60xx controllers from Marvell are used on the SATA II RAID-adapters of Areca and LSI Logic. HighPoint makes use of services delivered by the 88SX50xx series.
With its SATALink Sil 3124 Silicon Image also has a controller supporting second phase SATA II, however the number of ports have been restricted to just four. The company can provide two versions, the Sil 3124-1 with SATA/150 port speeds and the Sil 3124-2 with SATA/300 performance. Last Sil 3112 and 4-port Sil 3114, which are used on many motherboards. The Sil 3112 and Sil 3114 are also used on the SATA RAID adapters of Adaptec, ICP Vortex and LSI Logic (MegaRAID SATA 150-4 and 150-6). Featurewise the Sil 3112 and 3114 are outdated compared to controllers from other manufacturers. Not only SATA II support is lacking, also the PCI-interface is restricted to 32-bit 66MHz. For this reason the Sil 3112 and Sil 3114 are no longer used on new RAID adapters. The lack of an 8-port version was most likely the reason Areca and LSI Logic switched to Marvell. As far as we know the Sil 3124 isn't used on any motherboard or RAID adapter.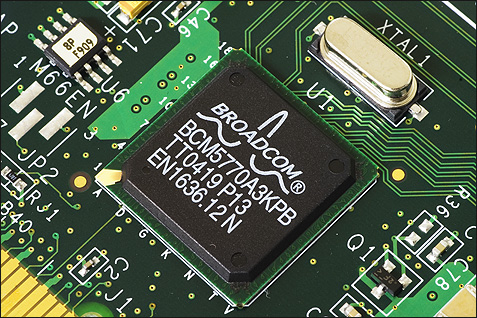 At present Broadcom still has no controller with SATA II support. Its line of products exists of 4-port and 8-port SATA/150 controllers, which both are capable of using 133MHz PCI-X. The Broadcom controllers are used on the RAIDCore BC4x52 series. The older RAIDCore RC4x52 series were based on Marvell 88SX50xx controllers, but these adapters were replaced by BC4x52 models during a large-scale replacement program. According to RAIDCore, the reason for the replacement is a fault in the Marvell SATA controller.

I/O processors
Intel, being the main manufacturer of I/O processors for RAID adapters, didn't stand still during the last years. The i960 architecture was followed by XScale, a modern architecture based on the industry standard ARM instruction set. The clockspeeds went up 8-fold from 100MHz for i960 processors to 800MHz for the fastest XScale core. The most recent model is named IOP332 and is available in clockspeeds of 500MHz, 667MHz and 800MHz. The core is equipped with a PCI Express x8 interface and a PCI Express to PCI-X bridge, which enables to use of local PCI-X I/O controllers while the I/O processor can communicate with the host through PCI Express. The IOP332 has support for DDR333 and DDR2-400 memory, so the memory interface is entirely up to date. These I/O processors are used in the PCI Express SATA RAID-adapters of Areca and will also appear in the MegaRAID SCSI 320-2E from LSI Logic.

For systems with a PCI-X interface, Intel is offering the IOP331 I/O processor. The specifications of the IOP331 are almost eqeal to the IOP332. The IOP331 is equipped with a PCI-X to PCI-X bridge and communicates with the host through PCI-X. IOP331 processors are used on the PCI-X SATA RAID adapters from Areca and LSI Logic. The 8-port Areca ARC-1120 is reviewed in this article. One generation behind the IOP331 is the IOP321, which is sporting a DDR200 memory interface and is available in clock frequencies ranging from 400MHz to 600MHz. The IOP321 lacks an integrated PCI bridge. The IOP321 is used on the LSI MegaRAID SCSI 320-2X and is at the heart of many external RAID solutions. The MegaRAID SCSI 320-2X showed for the first time the power of the new generation XScale I/O processors.
Still popular, but performance- and feature-wise no longer state-of-the-art, are the IOP303 and IOP302. These two chips are based on the i960 architecture and run at clockspeeds of 100MHz. The memory and the internal bus are clocked at 100MHz (IOP303) and 66MHz (IOP302). In both cases the PCI bridge is limited to 66MHz 64-bit PCI 2.2. The IOP303 and IOP302 processors have serious scaling issues. For this reason, both processors are unsuitable for modern RAID adapters. The LSI Logic MegaRAID SATA 150-4 and 150-6 are based on the IOP302. At present, all SATA RAID-adapters from Adaptec and ICP Vortex still use the out-of-date IOP302 and IOP303 processors.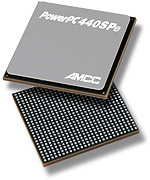 Besides the I/O processors from Intel, embedded processors from other manufacturers are used for I/O purposes. The PowerPC 7xx-series from IBM are one example. AMCC, the owner of 3ware,
3ware Escalade 8506-8
The name 3ware needs no introduction to users of parallel ATA RAID arrays. The company is one of the pioneers in this area. In this article, 3ware is joining us with two adapters, the Escalade 8506-8 and the Escalade 9500S-8. The 8506-series was introduced during the summer of 2003 and was the second-generation Serial ATA RAID adapter made by 3ware. The first generation was tested in our previous comparsion of SATA RAID adapters.
The main improvement in the second generation 8506-series is support for 64-bit 66Mhz PCI 2.2. The first generation Escalade 8500 had to do with a 64-bit wide 33Mhz bus. Thanks to the higher PCI clockspeed, the maximum available bandwidth increased from 266MB/s to 533MB/s. More important however is the fact that the bus will no longer be clocked down to 33MHz. This could have disadvantageous consequences for the performances of other devices residing on the bus, such as (onboard) gigabit ethernet controllers. The 8506 series ranges from 4 to 12-port models. The Escalade 8506-8 is the 8-port model.
On the previous pages we have already talked about the non-standard design used in the Escalade 8506. 3ware belongs to the select group of manufacturers whom are approaching RAID-adapter implementation their own way. The central part in the design of the Escalade 8506-8 is a 3ware-branded ASIC controlling two ATA/133 controllers and supporting hardware XOR calculations. For each port a Marvell 88i8030 Serial ATA bridge provides a 2-way translation of the parallel ATA protocol to Serial ATA. Together with the other components found on the adapter (among them three SRAM memory chips manufactured by Samsung), the PCB leaves a messy and badly integrated impression.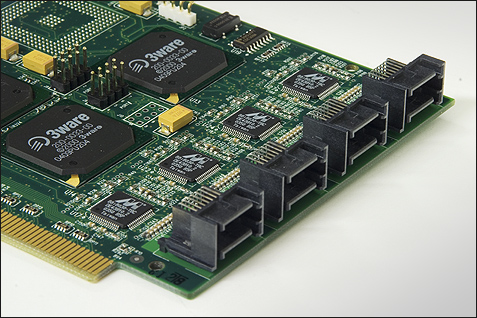 An important performance enhancing feature, available in many RAID-designs but lacking on the Escalade 8506, is onboard cache memory. The large quantities of cache found on many intelligent RAID-adapters, have a positive influence on the performance under nearly all workloads and are particularly important to RAID 5 performance, especially when write intensive workloads are used. In the first edition of our RAID comparison the Escalade 8500 was noted for very disappointing RAID 5 performance. The lack of cache memory was one of the causes, another cause was the insufficient performance of the I/O processor. The performance in the IOMeter random I/O tests, which are barely influenced by cache memory, were also quite disappointing. The Escalade 8506 will have to improve a great deal, and it won't succeed at that with only an inproved PCI interface.
Concerning the featureset, the Escalade 8506 doesn't convince either. Online capacity expansion, online RAID level migration, 64-bit LBA and RAID level 50 are not supported. Luckily, 3ware's driver support is outstanding. The RAID adapters from 3ware have been supported in the Linux kernel since a long time. Besides the kernel driver, there are driver packages suited for Red Hat Linux and SuSE Linux, and 3ware has a beta driver for FreeBSD 4.8. Microsoft-operating systems are supported from Windows 2000 and upwards. There are already x64-versions for Windows XP and Windows 2003 server. The design and the functionality of the webbased management tool remained largely the same as the software that was delivered with the Escalade 8500-8. See
3ware Escalade 9500S-8
Areca ARC-1120
HighPoint RocketRAID 1820A
LSI Logic MegaRAID SATA 150-4/6
Promise FastTrak S150 SX4
RAIDCore BC4852
Feature comparison (1)
Feature comparison (2)
Alternatives not included in this review
Testbed and test methodology
Access times and sequential transfer rates
ATTO STRs and cache transfer rates
Write STR and CPU usage
Random I/O performance
Desktop performance
Workstation performance
Server performance (1)
Server performance (2)
Server performance (3)
Server performance (4)
RAID 6 and RAID 50 performance
Write-thru and degraded array performance
SATA vs SCSI RAID
Last minute driver and firmware updates
User experiences
Conclusion