Now that we have some knowledge about the design of the different species of RAID adapters, it is time for a tour along the different SATA controllers and I/O processors which can be used as building blocks by manufacturers of both hostbased RAID adapters and intelligent modular RAID adapters. On this page we also inform you about the latest developments around the Serial ATA standard.

Rise of Serial ATA II
Scarcely two years on the market, Serial ATA has reached version two of the Serial ATA specification. SATA II has many improvements, of which the addition of Native Command Queuing is the most important. But there's also support for port multipliers, the support for enclosure management and the increase of the bandwidth up to 300MB/s per port. Furthermore Serial ATA II has among other things gotten support for dual host active failover and backplane interconnections where longer signal lines are permitted. A number of features speak for themselves or have already been extensively explained. Concerning NCQ and port multipliers you can read more in SATA II will be introduced in two phases. At the first stage products will provide NCQ, enclosure management support, support for backplanes with longer signal lines and support for data scatter/gathering (a method to improve the performance of DMA transfers). Products supporting SATA II phase 2 will provide dual host active failover, 300MB/s port speeds and support for port multipliers. Phase one and phase two products are brought to the market simultaneously. There are already some SATA controllers available which support phase two features.
The improvements in the SATA II standard are particularly interesting for server applications. SATA II will become even more attractive for use with servers when the Serial Attached SCSI standard arrives on the market sometime this year. SAS controllers will be able to connect to both SAS and SATA drives, making it possible to combine both interfaces in a single storage system.

Serial ATA controllers
At the moment Silicon Image and Marvell are the most important suppliers of discrete Serial ATA controllers. Broadcom is also offering a line of SATA controllers, but as far as we know these solutions are only used by RAIDCore, a daughter company of Broadcom. Purely based on specifications Marvell produces the most versatile controllers. The 88SX60xx series of this manufacturer supports phase two features and is available in 4-port and 8-port versions. Due to a high degree of integration and support for 300MB/s speeds, NCQ, port multipliers and 133MHz PCI-X these chips are popular among manufacturers of RAID-adapters. For less demanding applications, Marvell is offering the 88SX50xx series of SATA I controllers. This series is also available in 4- and 8-port versions. The 88SX60xx controllers from Marvell are used on the SATA II RAID-adapters of Areca and LSI Logic. HighPoint makes use of services delivered by the 88SX50xx series.
With its SATALink Sil 3124 Silicon Image also has a controller supporting second phase SATA II, however the number of ports have been restricted to just four. The company can provide two versions, the Sil 3124-1 with SATA/150 port speeds and the Sil 3124-2 with SATA/300 performance. Last Sil 3112 and 4-port Sil 3114, which are used on many motherboards. The Sil 3112 and Sil 3114 are also used on the SATA RAID adapters of Adaptec, ICP Vortex and LSI Logic (MegaRAID SATA 150-4 and 150-6). Featurewise the Sil 3112 and 3114 are outdated compared to controllers from other manufacturers. Not only SATA II support is lacking, also the PCI-interface is restricted to 32-bit 66MHz. For this reason the Sil 3112 and Sil 3114 are no longer used on new RAID adapters. The lack of an 8-port version was most likely the reason Areca and LSI Logic switched to Marvell. As far as we know the Sil 3124 isn't used on any motherboard or RAID adapter.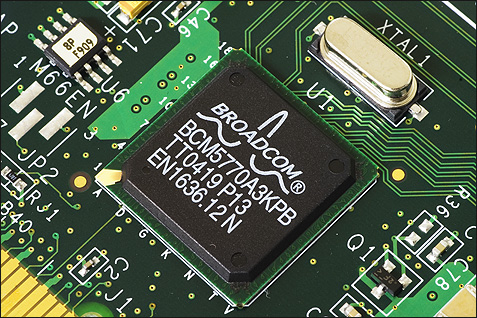 At present Broadcom still has no controller with SATA II support. Its line of products exists of 4-port and 8-port SATA/150 controllers, which both are capable of using 133MHz PCI-X. The Broadcom controllers are used on the RAIDCore BC4x52 series. The older RAIDCore RC4x52 series were based on Marvell 88SX50xx controllers, but these adapters were replaced by BC4x52 models during a large-scale replacement program. According to RAIDCore, the reason for the replacement is a fault in the Marvell SATA controller.

I/O processors
Intel, being the main manufacturer of I/O processors for RAID adapters, didn't stand still during the last years. The i960 architecture was followed by XScale, a modern architecture based on the industry standard ARM instruction set. The clockspeeds went up 8-fold from 100MHz for i960 processors to 800MHz for the fastest XScale core. The most recent model is named IOP332 and is available in clockspeeds of 500MHz, 667MHz and 800MHz. The core is equipped with a PCI Express x8 interface and a PCI Express to PCI-X bridge, which enables to use of local PCI-X I/O controllers while the I/O processor can communicate with the host through PCI Express. The IOP332 has support for DDR333 and DDR2-400 memory, so the memory interface is entirely up to date. These I/O processors are used in the PCI Express SATA RAID-adapters of Areca and will also appear in the MegaRAID SCSI 320-2E from LSI Logic.

For systems with a PCI-X interface, Intel is offering the IOP331 I/O processor. The specifications of the IOP331 are almost eqeal to the IOP332. The IOP331 is equipped with a PCI-X to PCI-X bridge and communicates with the host through PCI-X. IOP331 processors are used on the PCI-X SATA RAID adapters from Areca and LSI Logic. The 8-port Areca ARC-1120 is reviewed in this article. One generation behind the IOP331 is the IOP321, which is sporting a DDR200 memory interface and is available in clock frequencies ranging from 400MHz to 600MHz. The IOP321 lacks an integrated PCI bridge. The IOP321 is used on the LSI MegaRAID SCSI 320-2X and is at the heart of many external RAID solutions. The MegaRAID SCSI 320-2X showed for the first time the power of the new generation XScale I/O processors.
Still popular, but performance- and feature-wise no longer state-of-the-art, are the IOP303 and IOP302. These two chips are based on the i960 architecture and run at clockspeeds of 100MHz. The memory and the internal bus are clocked at 100MHz (IOP303) and 66MHz (IOP302). In both cases the PCI bridge is limited to 66MHz 64-bit PCI 2.2. The IOP303 and IOP302 processors have serious scaling issues. For this reason, both processors are unsuitable for modern RAID adapters. The LSI Logic MegaRAID SATA 150-4 and 150-6 are based on the IOP302. At present, all SATA RAID-adapters from Adaptec and ICP Vortex still use the out-of-date IOP302 and IOP303 processors.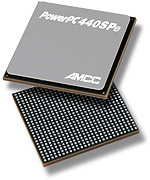 Besides the I/O processors from Intel, embedded processors from other manufacturers are used for I/O purposes. The PowerPC 7xx-series from IBM are one example. AMCC, the owner of 3ware,