In the early days of the ATA raid revolution, HighPoint was well known for its ATA-controllers. HighPoint chips were used on legendary motherboards such as the Abit BX133 RAID. However, HighPoint did not go along with the Serial ATA-evolution, resulting in greater popularity of Marvell, Promise and Silicon Image with the motherboard manufacturers. The company did eventually bring new Serial ATA RAID-adapters to the market. At first these adapters used Highpoint's own ATA-controllers in combination with a SATA-bridge, but for its recent adapters HighPoint has changed over to Marvell's Serial ATA-controllers. Highpoint's latest product is the RocketRAID 1820A, an 8-port hostbased SATA raid adapter based on the Marvell 88SX5080. This controller is one generation older than the one used by the Areca ARC-1120 (88SX6081), which is why SATA II is not supported. The Marvell 88SX5080 does have a fast 133MHz PCI-X-interface and support for ATA Tagged Command Queuing. As it turns out, in most circumstances TCQ results in a performance loss, except for very high server workload, so ATA Tagged Command Queuing should not be considered a real bonus.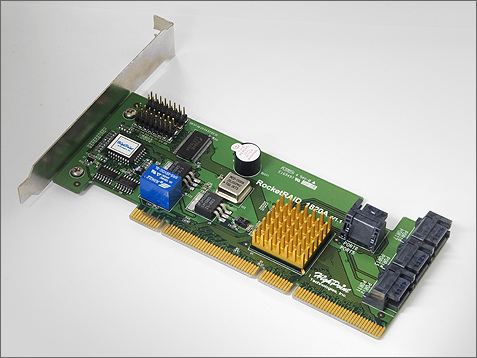 The RocketRAID 1820A is a direct successor to the RocketRAID 1820. The RocketRAID 1820 never got a good reputation, largely thanks to complaints regarding bad performance and even stuttering mouse cursors. On the hardware level, the RocketRAID 1820A differs from its predecessor by the addition of the HighPoint HPT601 chip, which, according to information provided on HighPoint's website, has to its disposal an optimized XOR technique and an advanced Intelligent Cache Algorithm. A fully fledged I/O processor is not present, so most instructions are handled by the CPU. As can be seen in the upcoming pages, the lack of an I/O processor can lay a considerable burden on the resources of a single processor system in the case of parity calculations.
The RAID feature set on the Highpoint RocketRAID 1820A doesn't score too many points. Some notable missing features are support for online RAID level migration, online capacity expansion and RAID level 50, but this is not surprising given its low price tag of approximately € 250. The Windows management interface is simple but does a satisfactory job. One can't complain about driver support. Windows is supported starting from NT 4.0, and drivers for x64-versions are available. Support for Linux is offered in the form of open source driver packages for a number of popular distributions. Furthermore, one can get drivers for FreeBSD 4.x and 5.x, and perhaps most notably also for MacOS X. This makes the HighPoint RocketRAID 1820A the only adapter in this review with support for Mac-users. Because the RAID implementation is entirely based in the driver, it remains to be seen if our 1820A benchmark can be translated from a Windows to a MacOS X environment.