For most tweakers the Promise name will ring a bell. The company is solely focused on products using ATA and SATA interfaces. Promise was one of the first manufacturers to bring ATA RAID controllers to the market. In august 2003 Promise introduced a 4-port SATA RAID adapter with RAID 5 support, just in time to be included in our previous SATA RAID review. This product, the FastTrak S150 SX4, is nothing more than a modified FastTrak SX4000 which has been equipped with four Marvell ATA to SATA bridge chips. Therefore the FastTrak S150 SX4 is not a native Serial ATA-adapter.
The architecture of the FastTrak S150 SX4 can be qualified as hardware assisted RAID. A Promise PDC20621-chip, mounted just above the PCI connector, provides four ATA channels and delivers XOR acceleration. A maximum of 256MB cache memory is provided by a 168-pin DIMM slot. All this has been put on an enormous full size PCB that doesn't testify of a need for integration. Promise should take a close look at SCSI RAID adapters from LSI Logic. The latter can shove all components - a SCSI controller, I/O processor, 184-pin DIMM slot and a Battery Backup Unit connector - on a half-length PCI board. Despite the overgrown format of the PCB, the FastTrak S150 SX4 only supports a regular 32-bit PCI slot. The interface is able to run at 66MHz clockspeeds in mainboard supporting 64-bit 66MHz and PCI-X. In that case, the FastTrak S150 SX4 has a bandwidth of 266MB/s at its disposal. Although the FastTrak S150 SX4 has a connection for a Battery Backup Unit, the BBU itself is only available as an option for OEMs.

Promise provides no cache memory with the retail package of the FastTrak S150 SX4. A minimum of 32MB memory is required. To remedy memory compatibility issues, Promise has recently replaced the FastTrak S150 SX4 with the FastTrak S150 SX4-M, which is equipped with 64MB SDRAM. No other changes were introduced. In this review we have tested the FastTrak S150 SX4 with the maximum cache capacity of 256MB.
Even though XOR calculations are handled by hardware, the FastTrak S150 SX4 relies on the driver and CPU to handle the RAID operations. As a result, RAID 5 CPU usage is higher than intelligent RAID adapters. The FastTrak S150 SX4 does have an advantage over hostbased RAID adapters, which totally rely on the CPU. Because many intelligence has been moved to the driver, it is of vital importance that the driver is reliable and stable. Unfortunately Promise doesn't fulfill this last condition. The first version of Windows-driver caused a huge amount of problems and frustration for purchasers of the S150 SX4. The largest problem was a crawling performance when the adapter was used to control the boot drive. In October 2003 Promise released a driver for the FastTrak SX4000 which also remedied most of the issues concerning the FastTrak S150 SX4. Although the beta driver was available, users of the S150 SX4 had to wait until June 2004 before a stable driver that solved the peformance issues was officially launched. An outrageous display, especially for a manufacturer who recommends its products as a performance solution for professional applications.
Now this suffering is over, the Promise FastTrak S150 SX4 with its price of 190 euro (without memory), is once more an attractive solution for budget-aware users. The price is the lowest of all adapters tested, although the HighPoint RocketRAID 1820A comes with a lower price per port. In our previous RAID comparison, the FastTrak S150 SX4 performed well in RAID 0 and offered reasonable performance in RAID 5. Today, the card will probably experience the same problem as the megaRAID SATA 150-4 and 150-6, because no improvements were made the competition of newcomers such as Areca, HighPoint and RAIDCore can catch up.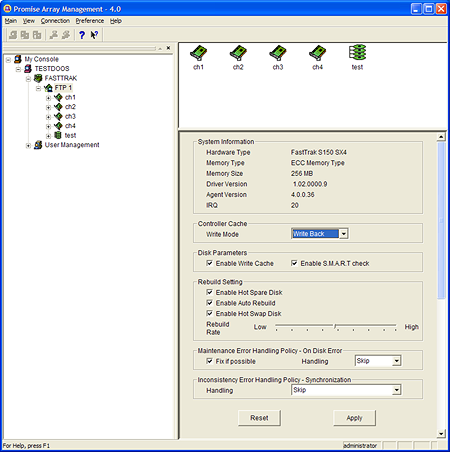 Concerning RAID features the card does not score bad. RAID level migration, online RAID level migration and instant availability are supported. Creating arrays larger than 2 terabyte is not possible, but with only four disks that won't be possible in the near future anyway. Drivers are available for Windows 2000, Windows XP, Windows server 2003, Red Hat Linux and SuSE Linux. A source code driver for Linux is not available. Promise provides a user-friendly management tool for Windows environments. A handy feature of the FastTrak S150 SX4 is the ability to swap (RAID 0, RAID 1 and RAID 10) arrays between the FastTrak S150 SX4 and onboard Promise RAID controllers. Users of FastTrak S150 TX2plus, FastTrak S150 TX4 and onboard Promise SATA controllers will be able to transfer their arrays to the FastTrak S150 SX4 and then have the possibility to modify the RAID configuration by means of online RAID level migration and online capacity expansion.