At present, the Taiwanese firm Areca remains largely unknown. However, this should not be taken as an indication to of the performance and quality of their products. Areca has specialized in designing external RAID controllers, which are used mainly by third parties in storage rackmount systems. In the summer of 2004, Areca introduced a series of PCI-X and PCI Express based Serial ATA RAID adapters utilizing a modular implementation based on Intel's latest generation I/O processors. The 8-port ARC-1220 PCI-X adapter was used for this review, but it must be noted that Areca also manufactures 4-port, 12-port and 16-port adapters, both in PCI-X and PCI Express flavors.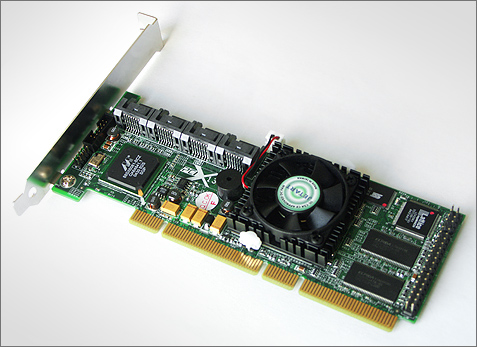 Areca's ARC-1120 can be considered a truly modern RAID adapter, due to the fact that it combines a 500MHz Intel IOP331 processor, 128MB DDR333 RAM and an 8-port Marvell 88SX6081 SATA-II controller. Without a doubt, this is the most powerful adapter in this review and offers any feature one might expect a SATA RAID-adapter to have. The bus interface can be set to either 133MHz PCI-X or PCI Express x8, while the SATA controller supports native command queuing and port speeds up to 300MB/s. A battery backup unit is present for mission critical applications, and in case 128MB is not enough, the 12-port and 16-port versions are upgradeable to 1GB via a 200-pin SO-DIMM slot. What's more, for these two versions Areca offers a multi-lane option, which reduces the amount of required cabling to 25 percent.
The RAID software stack designed by Areca supports all essential RAID features, including online capacity expansion, online RAID level and stripe size migration, array roaming, instant availability, S.M.A.R.T. disk drive monitoring and 64-bit LBA for arrays of more than 2 terabyte in size. Two unique features of the Areca RAID adapters are a redundant flash memory for the BIOS and firmware, and support for RAID level 6. The latter has been realized by using block level striping with double parity spread. As a result, an array will remain operational even after the failure of two disks. The downside, however, is the loss of capacity of two disks instead of one. Overall, RAID 6 is notably interesting for very large RAID arrays.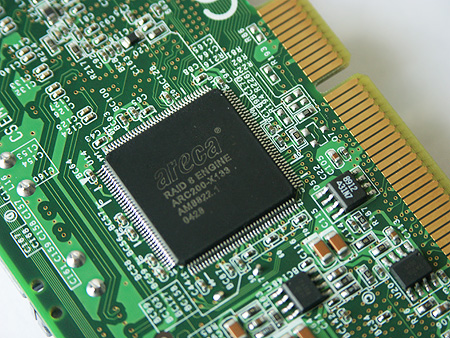 Besides having a great feature set, the Areca ARC-1120 and its family members enjoy excellent driver support. For Microsoft operating systems, Areca supports Windows 2000 and higher, including drivers for the upcoming x64-versions of Windows XP and Windows Server 2003. Driver packages are available for the Linux based Mandrake, Red Hat, Red Hat Advanced Server, Fedora core, SuSe and SuSE Linux Enterprise Server operating systems, in addition to the source code for each of these. FreeBSD versions 4.2, 4.4 and 5.2 are supported, and driver source code is available for those as well.
The onboard HTTP server allows for online management of the controller. The management interface design is simple yet effective, and houses some features uncommon to other adapters. This includes the ability to view the speed (in rpm) of the onboard I/O processor fan and the temperatures of the attached hard drives. The use of this fan is somewhat of a small disadvantage for those who value a quiet workstation; consequently it may be appealing to substitute it by a large, passively cooled heatsink. As a matter of fact, that's exactly LSI Logic's solution in their new RAID adapters, which are based on the very same I/O processor used by the ARC-1120.