The hardware implementation of hostbased RAID adapters generally differs little from storage adapters without RAID functionality. A low-profile PCB (Printed Circuit Board), I/O controller, flash chip and the necessary connectors to wire the hard disks are the most important components. Specially adapted BIOS software and drivers ensure that disks connected either by the PATA, SATA or SCSI protocol act as a RAID volume.
In the intelligent RAID adapter category there are many manufacturers using third party I/O processors and I/O controllers. In the case of Serial ATA the controllers are mostly originating from Marvell and Silicon Image. SCSI RAID adapters fequently use controllers made by Adaptec and LSI Logic. The I/O processors are in most cases originating from Intel, but there are manufacturers who incorporate PowerPC cores on their cards. The I/O processor communicates through the PCI bus with the host and uses memory chips soldered on the PCB or DIMM / SO-DIMM modules. A large part of the memory is reserved for cache. Many I/O processors contain an integrated PCI bridge on which local I/O controllers can be connected. The manufacturer-specific RAID software stack (also called a RAID kernel) ensures that the connected hard disks are presented to the outside world as one or several RAID arrays. The RAID software stack is therefore a piece of software that resides on top of the I/O processor. The recent processors of Intel are based on the standardised ARM instruction set. They are general purpose processors, but have been equipped with hardware acceleration for I/O specific tasks such as XOR and CRC operations.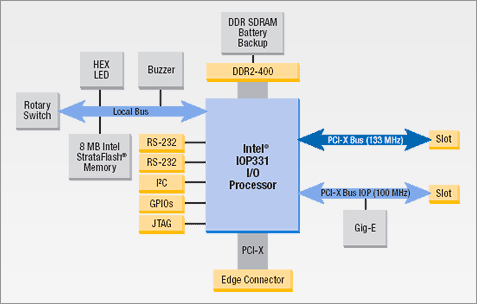 Intel IOP331 block diagram

With the above concept, makers of RAID adapters have the ability to realize truly elegant RAID implementations. New developments by manufacturers of I/O processors and I/O controllers can, in surprisingly little time, be converted into improved RAID implementations. Thus now we see the first SATA RAID adapters of Areca and LSI Logic using Intel's new generation XScale I/O processors and Marvell's new 8-port Serial ATA II-controller. These components both have a very good performance, a high degree of integration and a huge featureset. Intel has even incorporated PCI Express in its newest I/O processor and with aid of the newest Marvel controllers no less than 8 ports can be made available by one chip with each port supporting 300MB/s SATA II speeds and port multipliers. The modular concept also ensures scalable solutions: by using several I/O controllers on the RAID adapter, manufacturers can easily increase the number of ports or channels. The I/O controllers communicate with the I/O processor by means of standard PCI bus protocols, which results in a high degree of flexibility. The downside of this approach is the high price level, at least compared to hostbased RAID. The higher price is justified by a better featureset, but not always by better performances. Areca, Adaptec, ICP Vortex and LSI Logic are examples of manufacturers using modular RAID implementations.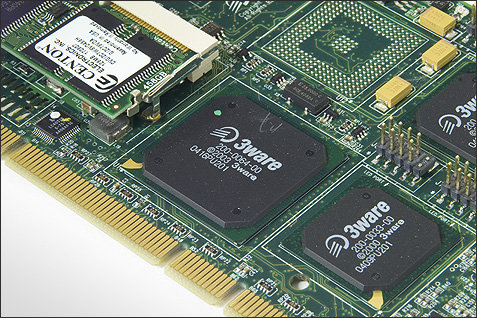 3ware StorSwitch ASIC
In spite of the advantages of the modular concept with third-party components there are still manufacturers who create their own solutions. The working method of Promise has been described before. 3ware is another example. In its storSwitch architecture the manufacturer uses its own I/O controllers and its own RAID ASIC. The slow development process of this solution is proven by the fact that support for native Serial ATA is still lacking in the 3ware's latest chip generation. In order to enable the use of SATA hard drives a Marvell PATA to SATA bridge had to be added for every port. In its newest incarnation the RAID ASIC can process 100MB/s RAID 5 sequential writes using only a few CPU-cycles. With current hard disks, managing sequential transfer rates of 60MB/s a piece, a RAID 5 write transfer rate of 100MB/s is hardly impressive. It is remarkable that until now 3ware didn't use memory on its cards and therefore lacked support for write-back cache. The absence of onboard cache is one of the reasons for the disappointing performance of 3ware Escalade 8500-8 in our