The name 3ware needs no introduction to users of parallel ATA RAID arrays. The company is one of the pioneers in this area. In this article, 3ware is joining us with two adapters, the Escalade 8506-8 and the Escalade 9500S-8. The 8506-series was introduced during the summer of 2003 and was the second-generation Serial ATA RAID adapter made by 3ware. The first generation was tested in our previous comparsion of SATA RAID adapters.
The main improvement in the second generation 8506-series is support for 64-bit 66Mhz PCI 2.2. The first generation Escalade 8500 had to do with a 64-bit wide 33Mhz bus. Thanks to the higher PCI clockspeed, the maximum available bandwidth increased from 266MB/s to 533MB/s. More important however is the fact that the bus will no longer be clocked down to 33MHz. This could have disadvantageous consequences for the performances of other devices residing on the bus, such as (onboard) gigabit ethernet controllers. The 8506 series ranges from 4 to 12-port models. The Escalade 8506-8 is the 8-port model.
On the previous pages we have already talked about the non-standard design used in the Escalade 8506. 3ware belongs to the select group of manufacturers whom are approaching RAID-adapter implementation their own way. The central part in the design of the Escalade 8506-8 is a 3ware-branded ASIC controlling two ATA/133 controllers and supporting hardware XOR calculations. For each port a Marvell 88i8030 Serial ATA bridge provides a 2-way translation of the parallel ATA protocol to Serial ATA. Together with the other components found on the adapter (among them three SRAM memory chips manufactured by Samsung), the PCB leaves a messy and badly integrated impression.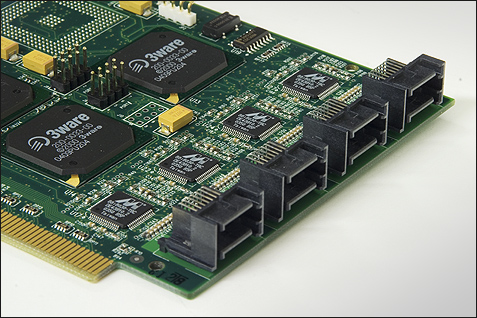 An important performance enhancing feature, available in many RAID-designs but lacking on the Escalade 8506, is onboard cache memory. The large quantities of cache found on many intelligent RAID-adapters, have a positive influence on the performance under nearly all workloads and are particularly important to RAID 5 performance, especially when write intensive workloads are used. In the first edition of our RAID comparison the Escalade 8500 was noted for very disappointing RAID 5 performance. The lack of cache memory was one of the causes, another cause was the insufficient performance of the I/O processor. The performance in the IOMeter random I/O tests, which are barely influenced by cache memory, were also quite disappointing. The Escalade 8506 will have to improve a great deal, and it won't succeed at that with only an inproved PCI interface.
Concerning the featureset, the Escalade 8506 doesn't convince either. Online capacity expansion, online RAID level migration, 64-bit LBA and RAID level 50 are not supported. Luckily, 3ware's driver support is outstanding. The RAID adapters from 3ware have been supported in the Linux kernel since a long time. Besides the kernel driver, there are driver packages suited for Red Hat Linux and SuSE Linux, and 3ware has a beta driver for FreeBSD 4.8. Microsoft-operating systems are supported from Windows 2000 and upwards. There are already x64-versions for Windows XP and Windows 2003 server. The design and the functionality of the webbased management tool remained largely the same as the software that was delivered with the Escalade 8500-8. See