Tixati is een uitgebreide, lichtgewicht en efficiënte BitTorrent-client met ondersteuning voor dht, magnet-links en rss-feeds. Het programma geeft uitgebreide informatie over alle aspecten van de download en het in- en uitgaande netwerkverkeer. Downloads zijn beschikbaar voor Windows en Linux. Daarnaast kan er ook een portable-versie gedownload worden. Verleden week is versie 1.88 van Tixati uitgekomen en de release notes daarvan zagen er als volgt uit:
Version 1.88 is now available.

This version features a complete overhaul of Tixati's local file handling.

Individual files within a transfer can now be independently moved to any location on your hard-drive, even while downloading or seeding is in progress. Files, folders, and entire transfers can also be renamed with ease, without interruption.

Files that are unselected (red X in the download column) now have a Delete option to remove them from the local hard-drive. A forced-check can also be initiated on individual files.

The sequencing of checking/allocating/moving operations has also been greatly improved. The operation queue is now device-aware, and will allow allocation or move operations to carry out concurrently if they are not using conflicting devices.

Numerous other minor aspects of file handling have been improved, such as default file permissions, locking, head+tail priority widths, fast-allocation algorithms, rechecking criteria, and error handling.

There have also been several other minor improvements in other parts of the program. Magnet links will now resolve immediately, even if the transfer is locally queued. The RSS reader has a few new feed compatibility work-arounds. Many GUI fixes have been made.

Further improvements to several other areas of Tixati are in the works and will appear in upcoming versions.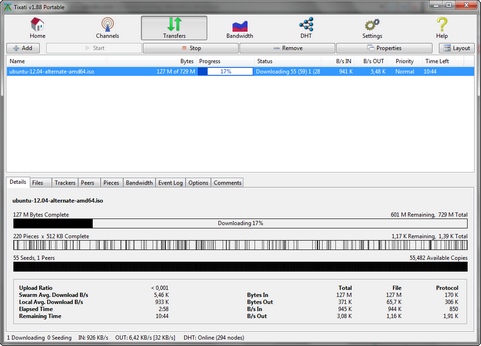 Tixati 1.88 screenshot, klik op de afbeelding voor een grotere versie.