DJI Interprises heeft bèta 6 van NewsBin Pro versie 6.00 uitgebracht. Dit programma is bedoeld om bestanden zoals foto's, films en programma's van usenet te halen. Deze bestanden kunnen in losse pakketjes van een of meer nieuwsservers worden gedownload en worden aan de ontvangende kant weer in elkaar gezet. In versie 6.0 is onder andere de gebruikersinterface onder handen genomen en maakt deze nu gebruik van tabs. In deze release zijn de volgende aanpassingen doorgevoerd:
Changes in version 6.00 Beta 6 Build 870:

Hooked up retries for download failures
Hooked up the Servers tab
Fixed Single Tab Mode for post lists
Implemented new method of resuming partially downloaded files on restart
Improved Group list load time
Improvements to automatic AutoPAR processing
Improved GUI response time when deleting a large number of posts
Many internal improvements to increase reliability

Upgrade NOTE:

Version 6 has a new storage format for headers. You have to manually invoke the conversion if you want to bring your 5.5x headers into V6. A new spool folder, SPOOL_V6 will be created for storing headers. To invoke the conversion, select a group or a bunch of groups in the Groups tab, right-click and select Post Storage, then choose "Import Version 5.XX Headers". A progress screen will pop up and you'll have to wait for it to finish before continuing.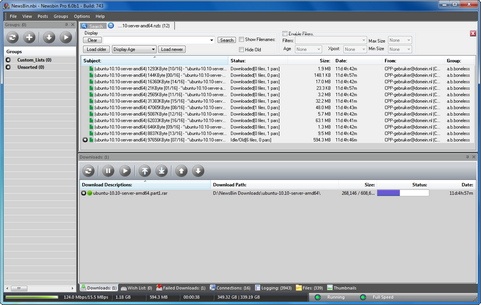 NewsBin Pro 6 bèta 1 screenshot, klik op de afbeelding voor een grotere versie.