DJI Interprises is bezig met de ontwikkeling van versie 6.00 van NewsBin Pro en is inmiddels bij de vierde bètarelease aanbeland. Dit programma is bedoeld om bestanden zoals foto's, films en programma's van usenet te halen. Deze bestanden kunnen in losse pakketjes van een of meer nieuwsservers worden gedownload en worden aan de ontvangende kant weer in elkaar gezet. In versie 6.0 is vooral de gebruikersinterface flink onder handen genomen. Sinds de eerste bètarelease zijn de volgende aanpassingen doorgevoerd:
Version 6.00 Beta 4 Build 832

Installer now prompts to remove workspace key (which resets GUI). Use this if Newsbin crashes on startup.
Fixed Poster Lockouts
Fixed issue where Help/About was hanging Newsbin
Fixed issue where thumbnails could hang Newsbin
Enabled TCP timeouts and keepalives to see if that addresses some reports of connections hanging.
Enabled filters for NZB files loaded into a post list
Right and left arrow was not functioning when trying to edit text in a field
Fixed issue with RAR Sample not saving a sample file.

Version 6.00 Beta 3 Build 820

Enable Filters no longer has a line through it
Display: New toolbar on Files tab. Buttons to remove from list, launch, delete from disk, and unrar.
Display: Fixed issue where selecting individual items in the post list (expanded) caused selection size to mess up
Display: Removed Window Positions dialog from Options screen. It is now unnecessary.
Download: When a RAR set failed to unrar but par files say it's perfect, Newsbin will now give up on it instead of downloading more pars and trying again.
Display: QPMS was leaving deleted files in the files list after assembly.
Autopar: If downloading a par, if the par is damaged to the point the parid is missing, trigger another par download
Autopar: Require that at least 90% of the file blocks be there before hunting for par files
Autopar: Fixed issue processing rar sets requiring passwords.
Display: Right click unrar from the download list wasn't adding files to files list
Display: Single part files should tickle the repair engine then leave the download list without deleting any other files with the same parid.
Display: Display a range of unrar and repair errors
Display: Add a password prompt with dropdown for passworded rars.
Display: Can now interrupt a manual unrar.
Display: Selecting multiple sets to unrar in the download list was only unraring one.
Display: Remove unrar/sample from the autopar status window. It's already in the download list right click
Display: Right click unrar from the download list now unrars to the unrar folder.
Display: If a password is set for tray pop and click the tray icon was giving multiple password windows
Download: After a repair but, not an unrar, the Autopar stats don't reflect the new state
Fixed issue where if you have and NFO or SFV IN the par set and they download before the rars (but the par downloaded) when they were removed from the download list, it removed the RARS too.
Fixed the issue where after a repair, autopar properties didn't reflect the repaired files.

Version 6.00 Beta 2 Build 774

Help link goes to V6 help now
Fixed issue launching NZB's from IE8
Added option to detect password protected rar files to Options/AutoPAR. Off by default. Set under Options/AutoPAR
Removed options from Options/AutoPAR that aren't needed anymore: Add PAR to top and Add Par to Wish List
Changed increments in the Min and Max Size filters
When files are moved from the scratch to the download list, now verifies that the filenames still exists before assuming they've been downloaded.
When a set is incomplete in the download list and then added to from the post list, the organization in the download list was incorrect.
Fixed "Load Special" and "Reload" (same dialog). Wasn't allowing you to enter day range for loading.
Added current block count to the autopar properties window
When downloading split RAR and PAR sets, now can associate the PARs with the other files in the download list.
For PAR Only downloads, download the small par and leave the rest paused waiting for more work
Fixed crash in newsbin when expanding and contracting in the middle of a paint
Disabling "Automatic unrar" was leaving the files in the download list. It'll now repair and delete the bad files and remove from the download list when complete
The word "Decode" was replaced with "UnRAR" in many places
New download state machine - more files remain in the download list requiring manual intervention when something goes wrong.
A failure in the inital PAR to download was tossing the rest of the set in the failed list
Addressed issue where rapid updates resulted in incomplete files from some servers - small overlap added
Unrar of a partial set from the download list wasn't working
Added a refresh button to the autopar properties window (available from right-click menu in the download list)
When files get added to an existing download list entry, if the PAR exists, now makes sure to unpause them and continue the download.
When using Internet Search, when a file is listed as "Downloaded", tag it as old too. Prevents the need to toggle "Hide Old"
When re-downloading PARs, now deletes the one that's already on disk instead of renaming
Assemble incompletes was too aggressive. Now it'll just assemble missing and failed chunks. This problem caused files to end up in the failed list withno repair after and "Assemble Incompletes".
Retry download would erase downloaded file state for a set of files in the failed or wish lists (or a retry in the download list). When retrying, only updates the NZB Parts now.
Downloaded state was getting lost when going to failed list and back to download list
Progress bar in par properties was coming up blank
Background purge to StorageAge is hooked up now.
Hooked up purge to display age.
If you start with no filters in the filters.db3, the dialogs for the filters weren't getting created. (Bug #12)
Deleting a filter was showing the wrong "OK" message. (Bug #11)
When you add a new filter, it is now selected and ready for input.
Added new toolbars for wish list and failed tabs
Mark old works in I-search again.
Properties in the post list wasn't displaying missing posts for single files.
Added validation that files were selected before popping up file folder selecters.
Changed update when started to a new value so, people with upgrade installs don't do a header download.
Removed MD5 for whole file checking in autopar, using intel CRC32 instead. CPU load one one core seems to be 1/3 what it was before.
Added ability to set the unrar and repair priority. No interface for it, set it in the .nbi file in the [Settings] section set "RepairPriority" to 1 to reduce priority. Remove it or set to 0 for normal priority
Removed the "B" from the counts shown in the groups list. It's a number of posts, not bytes.
Doing a "clear results" only cleared visible results, wasn't actually doing a clear internally.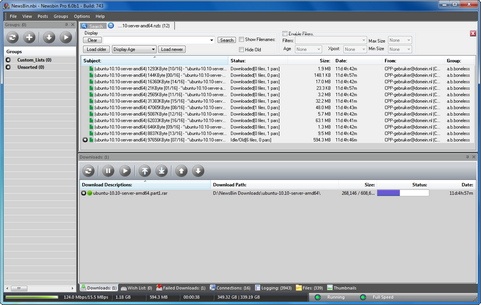 NewsBin Pro 6 bèta 1 screenshot, klik op de afbeelding voor een grotere versie.