VSO Software heeft een nieuwe stabiele versie van ConvertXtoDVD uitgebracht. Met dit programma kunnen uiteenlopende videobestanden op het standaard-dvd-formaat worden geformatteerd en gebrand, zodat deze bijvoorbeeld op de standalone-dvd-speler in de huiskamer kunnen worden afgespeeld. ConvertXtoDVD heeft ondersteuning voor een groot aantal audio- en videoformaten, en kan ondertiteling invoegen en uitgebreide menu's maken. Verder is het programma te gebruiken in een groot aantal talen, waaronder het Nederlands. In deze release zijn diverse problemen verholpen.
Changes in ConvertXtoDVD version 4.1.17.362:

Depending on the size of the preview window, a thin green line on the right edge can sometimes appear. This should no longer be the case.
When selecting a menu element in the treeview, the matching menu page didn't show up in the preview
Potential crashes and a (old) memory leak when closing the application has been fixed nowrnand some file support fixesrn
0004290: [Crash] Some WMV files cause XtoDVD to hang up, freeze
0004346: [Bug] access violaition when merging files with black mirror menu
0004340: [Bug] aspect ratio not respected
video squeezed vertically
0004345: [Bug] Regression with WMAP audio decoding. File can be converted, but no sound on output.
0004347: [Bug] converted file plays in slow motion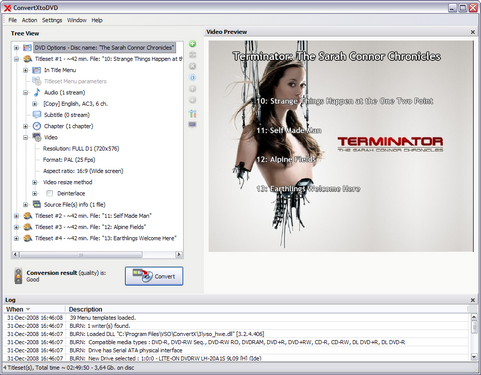 ConvertXtoDVD screenshot, klik op de afbeelding voor een grotere versie.